Articles > Airports > Los Santos Airport (Redirected from SALS)
Los Santos Airport
Los Santos Airport
Airport Code: SALS
Summary
Type
Civil
Elevation
14ft
Mission points
7
Service points
2
Vehicle spawns
22
Location
X: 1744
Y: -2543
Z: 14
Runways
Direction
Length/Width
Surface
09L/27R
679m/35m
Asphalt
09R/27L
678m/35m
Asphalt
Helipads/platforms
Size
Surface
40x40m
Concrete
Navigation
NDB
SALS
VOR
SALS09L +ILS
SALS27R +ILS
SALS09R +ILS
SALS27L +ILS

Los Santos Airport was originally built as the airport for the National Guard of Los Santos. It was transformed into a civil airport in 1942. Since then, the terminals have seen millions of passengers passing through.
The airport is located at the southern beach of Los Santos, bordered by the freeway, Verdant Bluffs, El Corona and Willowfied.
There are two long runways at LSA, which are connected to each other in a U-shape. All runways have full navigation capabilities. There is only a single helipad at LSA.
Vehicle spawns
Sparrow
Maverick (3)
Beagle
Stuntplane (2)
Shamal (3)
Nevada (3)
Raindance (2)
AT-400
Andromada (2)
Dodo (4)
Service points
Los Santos airport has two service points available, one in the east and one in the west.
East service point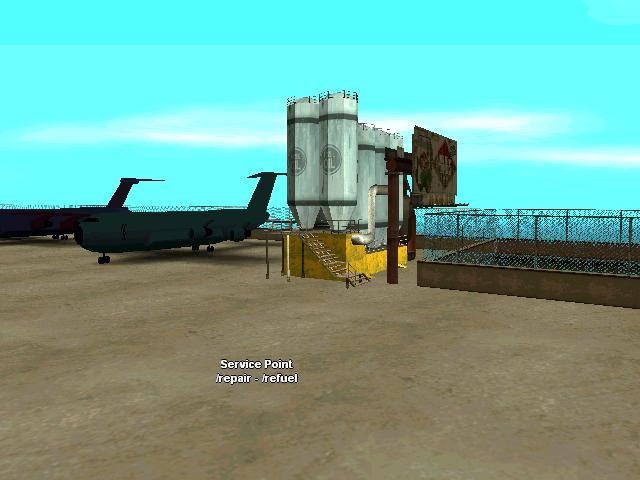 West service point
Aerodrome Chart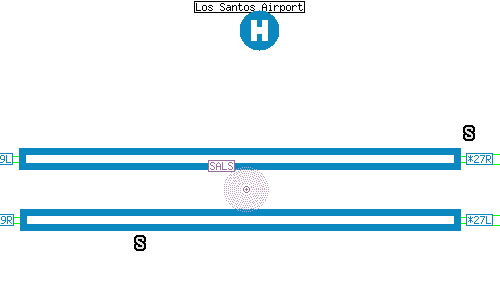 Mission points
Latest flights
Miscellaneous stats
Mission flights: 772 inbound + 1547 outbound (=2319)
Service points refuels: 306
Service points refuel spending:

-$147,960

Service points repairs: 281
Service points repair spending:

-$136,838

Service points damage repaired: 47344
This article has been accessed 2907 time(s).
Main page Article index